SynSysCo is pleased to introduce the NeoDry 300E at the 2015 AVS International Symposium & Exhibition in San Jose, CA October 18-23rd.  The NeoDry 300E is Kashiyama's latest Best-In-Class release in the NeoDry series of pumps.  The NeoDry 300E is a 2 Stage Air Cooled Dry Vacuum pump, providing 5,000 LPM pumping speed, 3.75 mTorr base pressure, and a 3 year maintenance interval.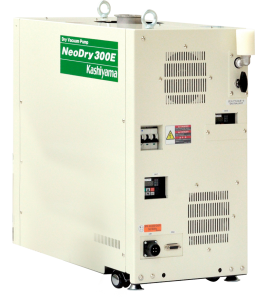 The NeoDry Vacuum Pump Series provides "Best in Class" performance in:
Vapor Handling Capability (600 Grams Per Hour)
Energy Efficiency
Quietness
Low Vibration
Pumping speed
 3 Year Maintenance Intervals
Make an emergency stop at our booth #911 on Tuesday October 20th through Thursday October 22nd to get all the information and line up your demo, evaluation, or purchase of the new NeoDry 300E!  We anticipate very large demand for this product, and look forward to meeting you.