Elmo Rietschle S-VSB 800 Dry Screw Vacuum Pump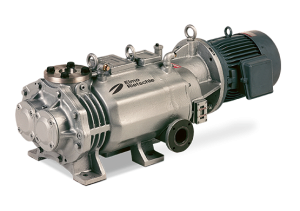 SynSysCo is your source for all service, maintenance, repair, rebuilds and parts for Elmo Rietschle Dry Screw Vacuum pumps.
SynSysCo's equipment repair capability enables refurbishment of the Elmo-Rietschle S-VSB 800 dry screw vacuum pumps.  We also repair Dry Screw Vacuum pumps from a range of manufacturers including Kinney, Tuthill, Gardner Denver and Busch.
Every pump rebuild begins with complete disassembly and decontamination of the pump. Once clean, our technicians will inspect all pump parts for wear or damage and will also test the electric motor to verify proper performance.
If any major damage to the screws, housings, or any other major component is detected, it will be quoted to you upon the completion of the pump evaluation and prior to any repair work being conducted on the pump.
After approval of the quoted rebuild, our factory trained technicians will reassemble your pump and it will be tested for a minimum period of 24 hours. A detailed rebuild summary and the final check sheet and testing log will be returned with the rebuilt pump.
All SynSysCo pump rebuilds are covered by our one-year warranty (from the date of installation) against defects in parts and workmanship.
For pricing and answers to your questions, please call our Service Department at 866-DRY-PUMP (866-379-7867)